Window Screens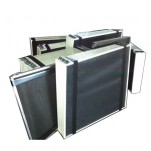 Americas Trusted Choice in Custom Window Screen Manufacturing
Now supplying over 150,000 custom window screens to homes across America each year, we have been proudly producing window screens for over 30 years. We are a family owned business, fortunate enough to employ a small team of fantastic individuals whom we consider part of our family. When you buy from us, you are not only supporting small American business, but helping to support those of the families that we are lucky enough to employ. Buying window screens direct online from the manufacturer will provide you big savings on replacement window screens and deliver a high quality crafted window screen that last. Other big ecommerce sites offer "window screens for sale" and outsource it to unreliable quantity driven companies. We care, and will always be a phone call away and can help with any of your concerns with your order. We build and deliver quality window screens online that last and fit, where others sale window screens period.
Thicker High Grade Aluminum Frames, Not Flimsy Like The Other Guys
We have been manufacturing our own aluminum frames for our window screens in-house since we opened in 1987. While many of the products you will find on the market today are cutting corners by using cheaper, thinner aluminum profiles. We still manufacture our customers the best custom window screens we know how, which is why we are still using 0.02" in our manufacturing process to this day.
Engineered Corner Locks That Are Extra Durable, Designed To Last
You'll be happy to know that you won't fund us cutting corners on our corner locks either. Our locks are 4X stronger compared to industry standard offerings. We have custom designed our corner locks and wholesale them directly to a number of small window and door fabricators across the country. We also add UV protection additives to ensure a lasting product that won't break down over time.
Custom Made Window Screens Just For You
Every window screen we make is custom designed to your specification. Providing a wide variety of frame colors, and mounting hardware options. Combine that with our fantastic selection of screen materials, and you'll be able to get new window screens that a perfectly suited to your needs. However, because we custom manufacture directly for our customers, it does mean that we are unable to accept returns on our custom window screen products. This is why it's extremely important that you provide us with accurate specifications of what you need us to make. If you have any questions, please reach out to our customer service team.
Rush Manufacturing Available & Securely Shipped To Your Door
Due to demand for our product, our standard manufacturing timelines can often reach 3-4 weeks. We have listened to your feedback and Rush Service is now available that allows you to skip the line and have your screens ready in 1-7 business days. All of our screens are securely packed and shipped with FedEx, UPS, and USPS.
Like us On Facebook - FACEBOOK AND RECEIVE AN Additional 10% OFF
Why Buy Window Screen Replacements?
Save money on power bills with energy efficient solar window screen replacements
Protect yourself from insects and critters, small insect screening is a great choice for screen mesh
Enjoy the fresh air and allow circulation through out your home
Protection against allergy causing pollen with pollen guard window screen replacements
Enjoy the beautiful scenery with better view window screen replacements
To apply Coupon - After adding products to cart go to view cart and apply coupon at bottom of screen

Measuring------ Measure outside edge to outside edge of aluminum screen frame of existing screens. We do not add or subtract anything from the dimensions ordered.
LEAD TIME-------------Appx. LEAD TIME: 1-3 weeks
MINIMUM ORDER 2 Window Screens (Any Combination of Sizes) Add to cart then edit quantity in cart
There are no returns on custom made window screens so double check your measurements. We will be accurate on size within 1/16" +/-

WARNING !!! Insect Screens will NOT prevent Children or Objects from falling out of an open window.
Keep Children away from open windows!!!
Replacement Window Screens- Custom made window screens are cut and fabricated at our facility (approx. 2-4 weeks). Just simply measure your screen and order online! Made from heavy duty roll formed aluminum screen frame and available in White, Mill Finish, Bronze or Almond.
Insect Fiber Mesh will provide years of protection against insects available in Charcoal (standard), No See Um 20x20, Solar Screen, Clear View, Pet Screen, Solar Screen, Aluminum Screen
Custom Made Window Screens include all hardware... simply choose from the options.
Any orders over 50 window screens please call 1-888-461-6444
---
Refine Search
Showing 1 to 3 of 3 (1 Pages)