Screen Doors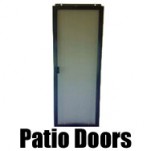 Patio Sliding Screen Doors
Introducing our exceptional extruded aluminum sliding patio screen doors, meticulously crafted by a team of dedicated screening experts. Built with utmost precision and using only the finest materials, these doors are designed to deliver durability, functionality, and aesthetic appeal.
At the core of our sliding patio screen doors is a high-quality extruded aluminum frame. This sturdy frame provides superior strength and structural integrity, ensuring the door withstands the test of time. We take pride in our meticulous attention to detail, resulting in a product that lasts for years without compromising on performance.
One of the standout features of our screen doors is the ability to choose from a wide range of screen mesh options. Whether you require pet screen to keep your furry friends safe, solar screen to reduce heat and glare, fiberglass screen for optimal visibility, small insect screen to keep pesky bugs out, or aluminum screen for a classic look, we have the perfect solution for you. We understand that every customer's needs are unique, and we strive to offer a diverse selection to cater to those specific requirements.
Customization is the key to a perfect fit, and that's why we offer the flexibility to tailor these patio screen doors to your precise specifications. Whether you have non-standard door dimensions or require specific features, we are here to bring your vision to life. Our skilled craftsmen will work closely with you to create a bespoke screen door that seamlessly integrates with your patio and enhances its overall aesthetic.
To complement any exterior design, our sliding patio screen doors are available in a range of attractive finishes. Choose from classic white, elegant tan, timeless bronze, sleek mill, or sophisticated black, allowing you to match your door with your existing decor seamlessly. With these versatile color options, you can create a harmonious blend or make a bold statement, accentuating the beauty of your patio space.
Smooth operation is paramount, and we ensure effortless sliding with the use of steel wheels. These high-quality wheels guarantee a smooth glide, enabling you to open and close your screen door with ease. Furthermore, the fully adjustable nature of our doors ensures a perfect fit and smooth performance year after year. Experience the joy of seamless functionality as you effortlessly slide the door open to welcome the outdoors, enjoying fresh air and natural light while keeping insects at bay.
Invest in our extruded aluminum sliding patio screen doors, and you'll acquire a long-lasting, top-of-the-line product that elevates the functionality and aesthetic appeal of your patio space. Our commitment to quality craftsmanship, extensive customization options, and a diverse range of screen mesh choices ensure you receive a screen door perfectly suited to your needs. Don't settle for anything less than excellence—choose our sliding patio screen doors and transform your outdoor living experience.
---
Refine Search
Showing 1 to 4 of 4 (1 Pages)